Horse racing is a multi-billion-dollar industry that easily clears $100 billion in wagering volumes each year through races organised across the world. Unlike other forms of gambling, horse race betting is considered to be a legal and regulated activity in most countries, which has helped in increasing the sport's popularity in recent years. Horse racing is indeed a fun activity, one that can either be enjoyed alone or with a group of friends and family for an exciting day out.
There are different online horse racing sites in India that offer access to both domestic and international races, which provides a wide array of options for Indian bettors. While the sport may not be as popular as other games such as Cricket in the country, there are still millions of punters who take advantage of the different turfs and races through online platforms to take part in high-quality races that are organised in different parts of the world. Here is a detailed guide for punters from India, regardless of whether you are a professional bettor, or just starting out in the industry.
Top Bookies for Horse Racing 2023
Last Update
18 / 08 / 2023
All recommended sites are:
Legal
Safe
Correct
Optimised for mobile
*T&Cs Apply, 18+;
How Is Horse Betting Legal in India?
It may come as a surprise that of all sports in the market, horse race betting enjoys immunity against gambling laws that are prevalent in the country. In fact, other popular activities such as sports betting and online gambling are highly illegal in India, with only a select few states offering the luxury of local gambling within their boundaries. The reason behind the legal status of horse race wagering in India is derived from the country's Supreme Court ruling in 1996, which states that horse racing is a sport based on skill and wagering on such events requires expertise and the technical know-how from the part of the punter. As a result, wagering on horse racing is entirely legal and an authorised activity in the country.
Although there isn't a centralised regulatory organisation for the regulation of the horse racing industry in India, different states have formulated their gambling laws to include several parameters for ensuring a fair and transparent gambling market. Wagering on horse racing is protected under several gaming acts, where punters can approach the court of law in case, they have any disputes with bookmakers or the Turf authorities.
The Extent & Popularity of Horse Racing in India
Races in India are organised by different clubs and Turf Authorities, where each organiser is free to determine the odds and the wager specifications according to the existing gaming laws of the state. There are several racecourses scattered across India, but there are only a handful of clubs that genuinely offer a world-class betting environment. Horse race betting is significantly popular in metropolitan cities such as Delhi, Bangalore, Hyderabad, Chennai, and Mumbai, where there are dedicated facilities for organising races according to the international standards.
Horse racing witnesses a massive turnover at the various events, where thousands flock to their favourite turfs to find the winning horse and take home an excellent payout. Some clubs have also partnered up with media outlets, and online bookmakers, where races are live streamed to households, pubs, and offices to enable punters to bet on their favourite odds through remote sportsbooks. The allure of wagering on races involving horses is slowly making its way into the Indian consciousness, mainly due to the incredible excitement and profit potential offered to the savvy punter.
How to Bet on Horses Online
Horse racing has been a part of our sporting culture for many centuries, which have documented instances of horse race betting since ancient times. However, until recently, wagering on races involving horses was primarily relegated to racecourses and clubs, where punters had to visit a turf, a satellite tote window, or any other affiliated outlet to place their bet. While many punters still consider this to be the correct form of horse betting, it is quite improbable for bettors to personally visit each race venue, especially if they seek to bet on an international horse race that is being organised in a different time zone. The sheer cost of travel and the time required for physically accessing these races can be unfathomable to many.
Therefore, the internet has become a boon in several ways, as it allows race organisers and bookmakers to offer an online platform for its clients to wager on their favourite steeds from the comfort of their homes. Online sportsbooks have an incredibly diverse range of options, which can vary from domestic to international races. Most online bookmakers have partnered up with famous racecourses and racing clubs across the world to provide a comprehensive sportsbook to its punters. All one needs to do is sign up for an account at any one of our highly recommended online betting websites, and they will get instant access to all the present and future fixtures, both in India and abroad.
Compare these online bookmakers
Promotional code required
A required minimum deposit amount
COMPARE BONUS OFFERS:
*18+; T&Cs apply!
Visit the bookmaker's website for more details
Opening a Bookmaker Account for Online Horse Betting
An online sportsbook account comes with a host of sports betting options, which feature popular races from several regional and international markets. In our opinion, online bookies are inherently superior to other options such as the tote window at your local turf or a racing club, as an online bookmaker is capable of presenting a more comprehensive range of horse races from the entire market, along with the broadest coverage of betting odds.
Since online bookmakers offer only a single account option for all of its sports betting categories, our top pick of online sportsbooks represents the cream of the market, where you can access the entire spectrum of the industry. You can open an account at an online sportsbook by using your existing email address and a phone number, and the account opening process is usually completed within a few minutes.
Every user must verify their identity by submitting proof of address and a national identifying document. Once an account is verified, punters can proceed towards making a deposit and choosing their favourite race from the book. Bookmakers often have the best platforms to facilitate comfortable and safe online gambling, which also makes it easy for punters to get acclimatised with the interface without any significant hiccups.
Types of Horse Betting Operators
Punters have the option of wagering on three different types of betting markets. Racing turfs usually adopt the pari-mutuel wagering protocol, while online bookmakers tend to stick to fixed odds horse betting. Some operators also function as a betting exchange, where a single punter or a group of bettors can wager against each other. Betting exchanges are quite uncommon in horse racing, as it is profoundly challenging to find punters to 'back' and 'lay' odds on different outcomes to create a market. Therefore, pari-mutuel and fixed odds betting is the more popular choice among punters.
In pari-mutuel betting, the money wagered by punters are collected into a massive pool, which is then shared proportionally among the winners at the end of the race. Race organisers may often make some deductions from the pool in the form of commissions, royalty, operating expenses, and taxes, which means that the winnings are calculated after factoring in all the costs. The odds in pari-mutuel sports betting can vary with the progression of a race, which can alter the payouts quite significantly. Punters can expect both positive and negative impacts on their payouts, which can make pari-mutuel betting both risky, as well as exciting.
On the other hand, fixed odds betting enables punters to earn a fixed payout on their wager, regardless of the changing circumstances of a race. In fixed odds horse wagers, the odds are predetermined by bookmakers by factoring in various performance parameters, including any fees or commissions that are to be paid to the race organisers, clubs, affiliates, or other betting operators. Therefore, punters can always be assured of receiving the exact payout on their winning bets.
Choosing the Right Horse Wagering Options
Horse betting is mostly a skill-based game, even though it is a part of the gambling industry, and there is a considerable amount of luck involved in races. Therefore, there are numerous strategies in the market that are adopted and customised by punters according to their preferences. Before choosing a horse betting strategy, it is essential to understand the different aspects of the market and be well-versed about the most popular wagers offered by bookmakers.
For instance, tote windows and betting outlets at racing turfs usually have different wagers for their pool betting odds, such as Win, Place, Show, Across the Board, Accumulator, and other exotic bets such as Exacta, Quinella, Trifecta, and Superfecta. In India, these wagers may have different names, owing to the local dialects, but the principles remain more or less the same. However, online bookmakers are more oriented towards fixed odds betting, as it is much easier for punters to enter the markets and choose their odds. The fixed payout promise can also be more appealing to punters, as the variable odds offered by a local bookmaker may diminish the prospects of a hefty payday.
What Is Horse Racing Handicapping?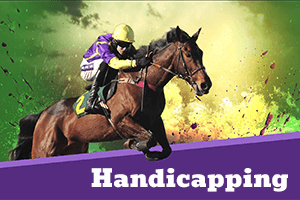 Handicapping has different meanings in different racing contexts. The outcome of a race is not purely derived from the strength and performance aspects of the horses that take part in a race, but it also depends on a wide variety of other factors. These factors include the skill and experience of the Jockey, the composition of the racetrack, the racing environment, the temperament of the horse on the particular race day, and most importantly, handicapping.
In its most straightforward term, horse racing handicapping is the process of diluting the performance of a particular horse or multiple horses by adding weights (known as impost), in order to even the playing field and create a more uniform result. Handicapping is usually prevalent in races where a top-performing horse is pitted directly against inferior or slower horses. Sometimes handicaps are also used in regular races to see whether the handicapped horse is capable of overcoming the handicap to outperform its rivals.
In the USA, handicapping is a betting strategy that aims to discover the best performing horse that has the highest potential to become a proven winner in a race. Punters usually visit a racing guide or other analytical websites and resources to determine the winner. Other horse racing handicapping strategies include evaluating the totes odds and their changes, assessing the behaviour of the horses before/during a race, expertise/skill of the Jockey, and any other factors that may affect the race outcome. If you are using handicapping for your horse betting strategies, always pay close attention to the context, as it can either make or break your betting strategy in a significant manner.
Are Profits from Horse Betting Taxable in India?
All income in India is taxable according to the existing Income Tax acts and laws implemented by the Government unless explicitly outlined by the authorities. Gambling income attracts a higher percentage of taxation, owing to the nature of luck involved in such activities, which means that wagering on races involving horses is taxed at the highest rate. It is the duty of every punter residing in India to declare their winnings from races and pay income tax at the prescribed rate, without fail. However, to keep track of higher winnings and to avoid the hassles of keeping track of every small winner, the Income Tax authorities may not track winnings that are less than 5000 Rupees (INR). However, multiple winnings of 5000 INR may come under the scope of the Income Tax Act, and punters should declare such winnings in their income tax filing statements.
Tips for Choosing Horse Racing Best Odds
Horse wagering can be a great pass time for all categories of racing lovers, but here are some tips that can help you to stay away from trouble and enjoy a great betting experience:
Always make it a priority to choose the best bookies for horse racing, especially those that are licensed and regulated.
Horse racing betting online may be more convenient for most punters unless you prefer visiting your local turf to enjoy the tote odds and the live racing environment.
Online horse racing sites have a fantastic array of resources to help you keep track of all the primary races in the market. Refer these resources periodically to stay updated.
If you are a newbie punter, restrict your wagers to small amounts, until you are comfortable with the different aspects of the betting market.
Take the time to get familiar with the various betting options and strategies by reading through comprehensive guides.
The best odds may be different for different bookmakers. Hence, take your time in choosing a betting operator that satisfies your betting needs.