Neosurf is considered to be the original pioneers of the concept of an internet payment card, which are available as prepaid cards or cash vouchers to make payments to merchants across the globe. The company launched its services in 2004, at a time when e-wallets were considered to be the most preferred platforms for online fund transfer. Therefore, with a revolutionary concept, Neosurf has spawned a multi-billion-dollar industry that promises instant fund transfers to merchants across the world, without ever sharing any personal information or bank/credit card details.
Online sports betting in India is being subjected to increased scrutiny, with several payment processors facing the brunt in the recent past. Punters are trying hard to find the best payment options in the market that not only allows them to access their favourite bookmakers but also keep their user information anonymous and secure. In this regard, Neosurf is a highly reliable payment method for small, anonymous, and secure online transfers, which makes it the perfect choice for Indian bettors.
Bookmakers offering payments with Neosurf
Last Update
18 / 08 / 2023
All recommended sites are:
Legal
Safe
Correct
Optimised for mobile
BOOKIE
Min.
Deposit
Max.
Withdrawal
Payment
Visit Site
$10

No limit

within 2-24 hours

visit Review
€1

No limit

within 15 minutes

visit Review
*T&Cs Apply, 18+
Is Neosurf Regulated & Secure?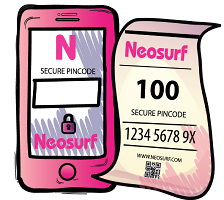 Neosurf is a regulated payment systems platform that is licensed by the Financial Conduct Authority of the UK as an Authorized Electronic Money Institution. Therefore, with a solid UK license, the company is among the elite payment processors in the market that can be trusted for their security and safety of user funds. Furthermore, the site is protected by 128-bit SSL encryption to provide the best protection against malicious threats.
While the company operates with a license from the FCA, the company's primary operations are based in Paris, France. Therefore, the company is able to cater to its customers in the entire European Union through a European Economic Area (EEA) passport, which makes it a legal entity across the EU. The company satisfies all the legal requirements to operate as a web-based funds transfer company, and the company currently caters to customers in more than 150 countries. As per the FCA guidelines, all customer funds must be held in segregated accounts, completely away from the company's operating funds. Therefore, the funds that you hold in your prepaid voucher is available for instant payment, without any worries of failed transactions.
Neosurf India for Sports Betting
Neosurf is currently accepted as a valid deposit option at numerous sports betting websites, which makes it even more convenient for Indian punters to make a deposit from India via a Neosurf Authorized Reseller. However, users must note that the payment system is not recognized or regulated by any Indian authorities, and any transactions that are carried out by Indian users will have to satisfy the existing AML laws that are prevalent across the globe. As such, there are no restrictions on using Neosurf in India, but you must always ensure that the merchant accepts the payment method before purchasing a voucher.
Using Neosurf – Do You Need an Account?
One of the best aspects of using a Neosurf voucher is that you don't have to register for an account or share your personal information with the website or a reseller. Hence, the payment method is 100% anonymous, which means that you can make a deposit at a bookmaker website without revealing your identity to any third parties. Neosurf vouchers are sold through more than 150,000 Neosurf Authorized Resellers (NAR) from around the world, a majority of which also offers the option to buy a prepaid card online. Since these prepaid cards are sold as smaller denomination vouchers, vendors are not compelled into obtaining the details of the persons who are purchasing these cards. As a result, the anonymity aspect is indeed an added advantage for those who are highly concerned about the security of their personal or financial information.
How to Deposit with Neosurf in Your Sportsbook Account
Using Neosurf is quite comfortable and convenient, as you can complete the entire deposit process within minutes. You are not required to hold any identity proof or any other documents for purchasing a prepaid card, which simplifies the process even further, but some resellers may ask you to verify your identity at the time of payment. Nevertheless, here are some easy steps by which you can deposit money into your sports betting account using Neosurf:
Find an online sportsbook that accepts Neosurf: The payments system may not be as popular in the online betting industry as e-wallets such as Skrill and NETELLER, but there are some fantastic options in the market that allows its customers to deposit using Neosurf. Head over to our online bookmaker reviews to find all the sites that support Neosurf or look for the company's logo at your favourite bookmaker to see whether they accept the payment method.
Purchase a Neosurf Voucher: There are more than 150,000 points of sale across the world that sell Neosurf vouchers, where users can choose the primary voucher currency between the USD and the EUR, depending on the location. You can purchase vouchers that can be worth anywhere from $10 to $1000, which once again depends on the POS or the NAR of your choice. You can either pay for your voucher by cash or use your credit/debit card or bank wire for online purchases. Once the payment is completed, you will receive a 10-digit pin that contains all the information about your prepaid balance, which must be saved for later use.
Signup for a Bookmaker Account & Make Payment: Once you have signed up for a bookmaker account, you can proceed to the payments page from your bookmaker's banking option and choose Neosurf as the deposit method. When prompted, enter your 10-digit pin into the designated form, enter your deposit amount, and click submit. Your bookmaker account will be credited with the exact amount that you chose, with the remaining balance staying in your voucher for future use. Since the prepaid cards issued by Neosurf are instant in nature, there is no delay in fund transfer, enabling you to wager on your favourite matches as soon as you deposit funds into your account.
Issues with Neosurf
The payment processor is not without its shortcomings, as there are some disadvantages to choosing the funding method over the other payment options that are available in the market. Here are a few:
The transaction sizes are limited between $10 and $1000.
Punters can only use the prepaid voucher to deposit funds, while withdrawals must be performed through other methods such as a bank wire or an e-wallet.
The choice of online bookmakers accepting Neosurf is comparatively very low.
It may be a hassle to find a verified and trusted NAR that safeguards your payment or personal information.
The underlying currency is only available in USD or the EUR, with no option to make a payment in other currencies such as the INR.
A Conclusion to Our Neosurf Review
For entirely anonymous and secure deposits to online bookmakers, there are very few options in the market that offers the same level of confidence as Neosurf. Indian punters will especially love the fact that the deposit method does not reveal their personal information, which adds an extra layer of security to their financial information. Overall, it is undoubtedly one of our most recommended funding methods for payments to online bookmakers, provided you can live with a few minor shortcomings that we have outlined above.
Other Online Payment Methods