NETELLER is a widely accepted online payment option for all types of e-commerce and web-based services. It is also one of the primary choices for online punters, as the payment system is not only fast and secure, but a large number of bookmakers accept the e-wallet as their default funding method. The company has established itself as a competitive and robust e-wallet in the market, as it can be used for both gambling and non-gambling financial transactions. Read our detailed NETELLER review to see if it is legal in India and how you can use the e-wallet for your sports betting accounts.
Bookmakers offering payments with NETELLER
Last Update
18 / 08 / 2023
All recommended sites are:
Legal
Safe
Correct
Optimised for mobile
BOOKIE
Min.
Deposit
Max.
Withdrawal
Payment
Visit Site
$10

No limit

within 2-24 hours

visit Review
₹1000
₹2,250,000

Instant

visit Review
$1

No limit

within 15 minutes

visit Review
€1

No limit

within 5 minutes

visit Review
₹1,000

No limit

within 15 minutes

visit Review
€10

No limit

within 15 minutes

visit Review
₹90

No limit

within 5 minutes

visit Review
₹100

No limit

within 15 minutes

visit Review
₹1000

No limit

within 15 minutes

visit Review
₹500

No limit

within 5 minutes

visit

Coming soon
*T&Cs Apply, 18+
The Need for a NETELLER Account for Sports Betting in India
The popularity of sports betting in India continues to increase on a day-to-day basis. More and more cricket fans are now revelling in the opportunity to wager on their favourite matches, as it provides the dual excitement of watching their favourite players perform and win handsome payouts. Regardless of the attractive wagering opportunities offered by international sportsbooks, Indian punters do face a few hurdles in the form of legal restrictions, as sports betting and bookmakers are illegal in the country.
The main concern for bettors is the difficulty in making payments from India to offshore or online bookmakers. Online sportsbooks operate in India without establishing a local presence, as the authorities have turned a blind eye towards online sports betting websites that are not based in India. Therefore, local payments are quite impossible in most cases, and if the authorities find out about the transfer of funds for gambling purposes, punters are likely to be reprimanded with hefty fines and even prison time. It does pose a severe challenge for punters to make a deposit or a withdrawal from an Indian bank account or debit/credit card to an online bookmaker wallet, which is where e-wallets such as NETELLER can help in making seamless and secure online fund transfers without touting any laws.
How to Deposit Money in NETELLER from India
You must have a fully verified account to be able to enjoy all the features offered by the e-wallet.
Here is a step-by-step procedure for opening an account and depositing money into your NETELLER account:
Sign up for an account through the official website. You can either click on the 'join for free' link that is displayed at the top right-hand corner of the website or click on the 'join for free' link on the signup page.
Enter your email address, a secure password, and your personal information such as your full name, address, and contact number. You will also be asked to select a preferred account currency, but be careful about your choice, as you will not be allowed to change it in the future. INR is indeed available as an option for Indian punters, or you can choose USD, EUR, or any other currency options that you prefer.
Once you have entered all the information and clicked on submit, you will have to verify your email address and then proceed to verify your identity. You can validate your identity by sending proof of your national ID document, alongside a bank statement or a copy of your utility bill.
Once your account is verified, you can proceed towards depositing money into your e-wallet account. You can choose from more than 60 different funding options, including bank wire, credit/debit card payment, or e-wallet transfer. Unlike other e-wallets, it is possible to fund your NETELLER e-wallet using your Skrill account. Alternatively, you can also receive payments to your e-wallet from other NETELLER users, and then use this balance for your sportsbook or betting needs.
You must be aware of the fees of transfer and the currency exchange rates, as making a payment in any currency other than your primary account currency can include conversion rates and other miscellaneous costs. For example, making a USD payment from an INR wallet will incur a currency exchange fee, a transaction cost, and any other charges as stated by the company.
How to Withdraw Money from NETELLER
Withdrawing money from your NETELLER account is a far more straightforward process, especially if you have a verified account. All you have to do is click on the Withdraw Funds link from your account dashboard, choose a preferred withdrawal method, enter your withdrawal amount, and click on 'Withdraw.' Withdrawals are usually processed within 24 hours, but there can be delays owing to holidays or any other unforeseeable circumstances. There are different withdrawal methods available for users, including a bank wire transfer, Skrill transfer, local bank withdrawal, NETELLER Prepaid Card, and transfer to a supported mobile wallet.
Fees for NETELLER Deposits & Withdrawals
Almost all transactions performed through your NETELLER account are charged anywhere from 2% to 5% of the transaction amount as fees and transfer costs. In the case of currency exchange or conversions, the e-wallet charges an additional 3.99% fee for converting your primary account currency to any other currency that is used for payment.
Bank wire withdrawals include a fee of around $10 to $12.5, while card withdrawals will charge you around 1.45%, with a minimum fee of $.50. However, sending money from your e-wallet to a merchant account is entirely free of cost. Therefore, you are bound to receive the full amount of deposit in your bookmaker wallet. Sometimes, bookmakers are charged for incoming transactions, but they will usually reimburse such costs by crediting their customers with the full deposit amount. The fees for transactions and fund transfers are highly competitive and are indeed in line with the rates offered by other similar e-wallets.
NETELLER Sign in Through the Sportsbook Cashier/Account Interface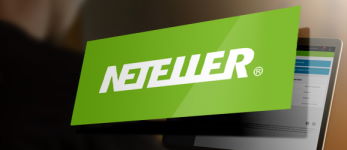 To deposit money into your bookmaker wallet, you must sign in to your NETELLER account through the Cashier option that is provided by your sportsbook. A sports betting website will generally provide a wide range of funding methods, with each method having its representative payment portal. The NETELLER payment interface is quite secure and easy to use, as you can either choose to pay with your wallet balance or pay directly from your credit/debit card that has been added to your e-wallet. All deposits made through the company's payment interface are instant in nature, which allows you to start betting as soon as you make the payment.
NETELLER Deposit Bonus for New Users
Since NETELLER is one of the very few mainstream e-wallets in the world that allow gambling-related transactions, online bookmakers often provide an impressive bonus on deposits made through NETELLER. Punters may also be able to take advantage of seasonal deals and offers, alongside special account-related bonuses that are reserved for e-wallet accounts that perform high-volume transactions. Regardless, punters should be aware that sports betting bonuses are not as massive as casino bonuses, but leading bookmakers still offer around 10-25% bonus on deposits, along with free betting credits.
NETELLER App for Mobile Devices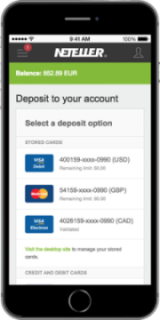 Punters can also take advantage of the mobile app offered by the company, which is available for download from the Google Play Store and the Apple App Store. The mobile app is compatible with both smartphones and tablets, which provides a convenient platform to access various features of the e-wallet, such as checking your account balance, making a payment, and withdrawing funds. The interface is intuitive and straightforward, with all the information and options laid out in a neat and useful manner.
Regulation & Security Aspects of a NETELLER Account
NETELLER is owned by the British company Paysafe Group, which is a global payments company that owns other renowned e-wallets such as Skrill. Paysafe Group is regulated by the FCA as an Authorised Electronic Money Institution and adopts the latest security encryption features to guarantee the safety of clients' funds. For instance, FCA directives require the Paysafe Group to hold all of its customers' funds in separate trust accounts, which can only be used to meet the debt obligations of the account holders. Therefore, NETELLER will not misuse your funds for any of its personal or corporate purposes, thereby ensuring that you can access your money anytime you need.
Transferring Funds from NETELLER to other e-Wallets
The e-wallet only allows its users to transfer funds between NETELLER and Skrill, as the company does not approve of any other types of external payments or transactions, such as NETELLER to PayPal and NETELLER to Paytm. Regardless, you can make a NETELLER to Bitcoin transaction, whereby users are allowed to buy and sell cryptocurrency at a nominal 1.50% fee for accounts with base currency denomination of EUR and USD, and a 3.0% fee for all other currencies. Unfortunately, the company does not support transfer to other e-wallets or electronic payment systems, and any exchanges that claim to do so are operating as an illegal and unauthorised service provider.
Can you use the NETELLER Card in India?
All types of prepaid cards are banned in India. Even the company specifies that the NETELLER Prepaid card can only be used in the European Economic Area (EEA). Therefore, you can't make a deposit or initiate a withdrawal to your sportsbook account through the prepaid card. However, you may be able to use your existing credit/debit cards that are issued by your Indian banks or service providers to fund your NETELLER account and use this balance to deposit money to a bookmaker wallet.
Other Online Payment Methods